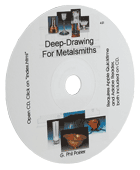 Deep-Drawing for Metalsmiths CD-ROM
Discussion and step-by-step techniques derived from industrial deep- drawing are accompanied by formulas, color photos and black-and-white illustrations. Includes videos and animations of the deep-drawing process, plus a digital copy of the book Deep-Drawing for Metalsmiths.
550-694 Order now >>
Cover your face and/or eyes with appropriate safety wear.
Center the work in the press.
Contain your work and/or urethanes with appropriate containers.
Keep the upright Column between you and your work.
Use Common sense when working on or around your press.
>> Keep fingers away from the press platens while pressing.
>> Do not wear loose or dangling clothing or jewelry while using the press.
>> Securely tie long hair back, away from the press.
Mechanical
All tooling is designed to bolt into the press, keeping everything centered over the ram and ensuring maximum stability for the press while it is used.


The ram is placed so that one of the upright steel tubes is situated between the operator and the work area during pressing. Some types of plastic tooling can shatter if used incorrectly; this positioning acts as a deflector in that event.


The press should be securely bolted to a sturdy work surface to increase its stability and protect the operator from injury caused by tipping.
Anticlastic—features opposing curvatures of the same surface (picture a saddle, whose ends curve upward even as its sides curve downward).
Durometer—measures the hardness of the urethane. Red (95d) is hardest, translucent ivory (80d) is softest.
Intensifiers—small pieces of 80d urethane placed over areas of the die to build up the form. These are typically sandwiched between a urethane pad and the metal.
Pusher—solid steel cylinder that forces a punch or other tool into a contained urethane block to achieve a desired form.
Spacer—takes up excess space in the work area to reduce the travel distance required for the platens to begin applying pressure to the workpiece.
Synclastic—features a matching curvature of a surface in all directions (picture a bowl, its sides curving upward and outward in the same manner).
Urethane—the most useful item used in the press. This incompressible material pushes metal into every detail of your die. Bonny Doon's urethane is specially formulated for forming applications with increased cut resistance and memory retention. Properly used, a pad can last ten years or more.